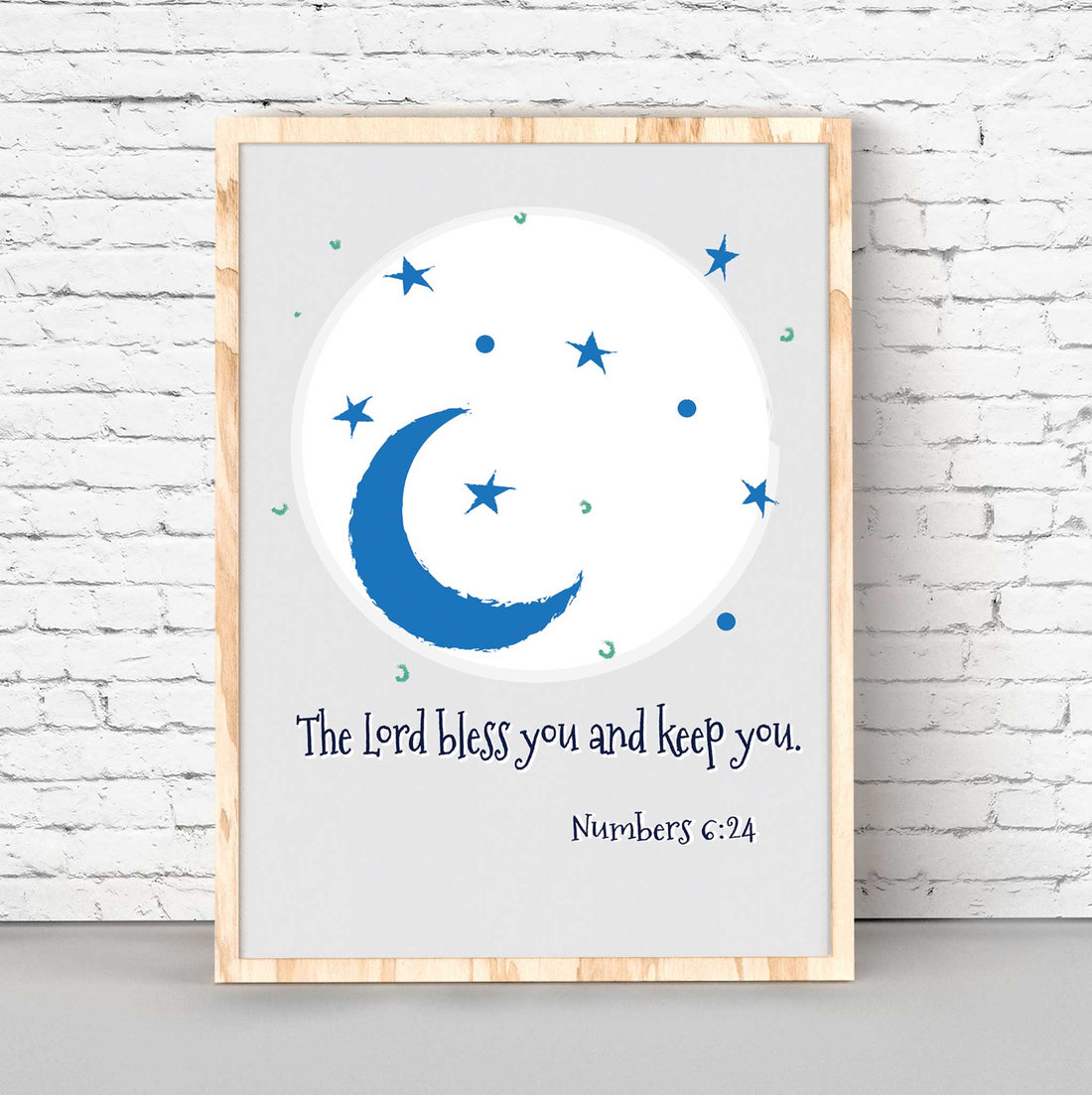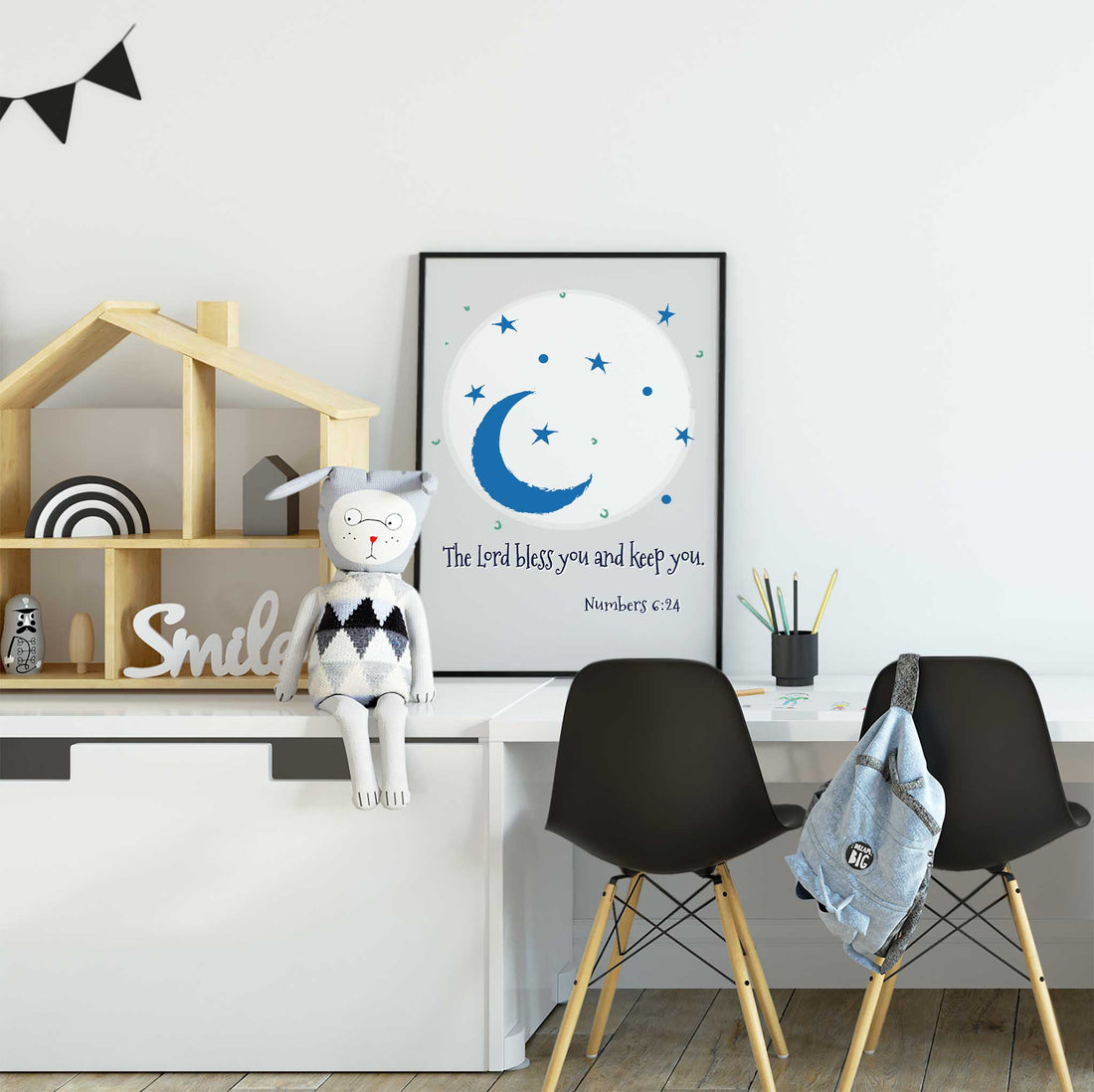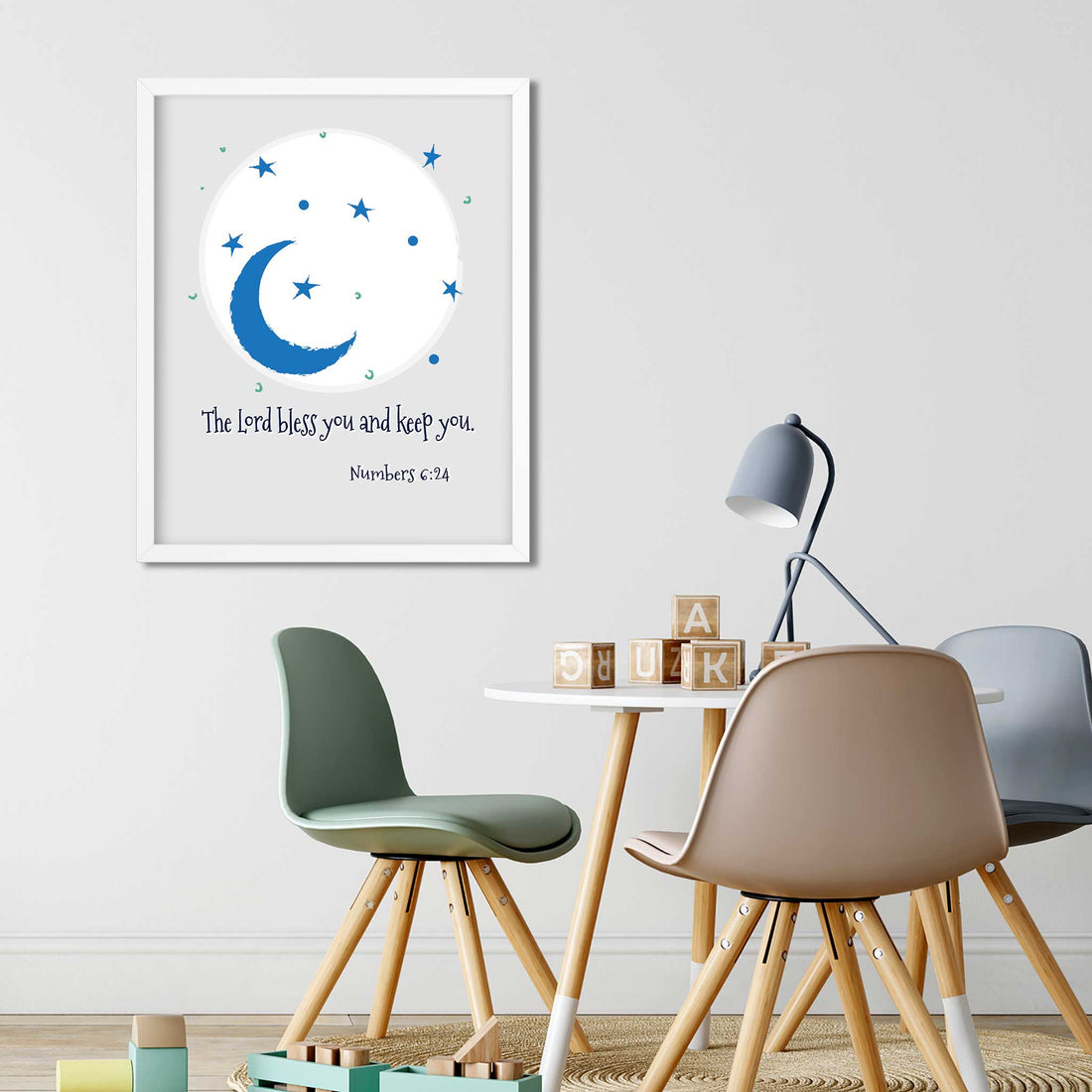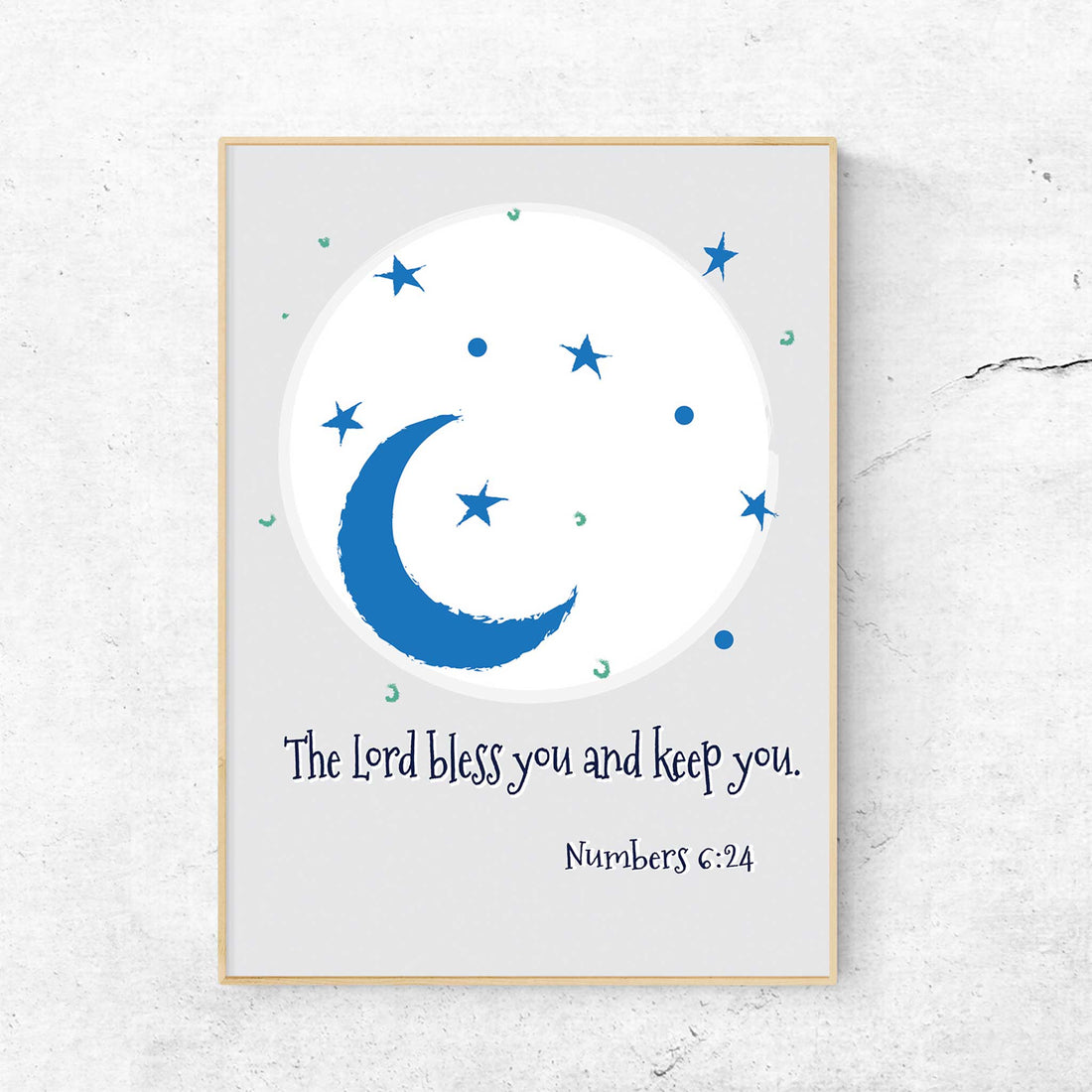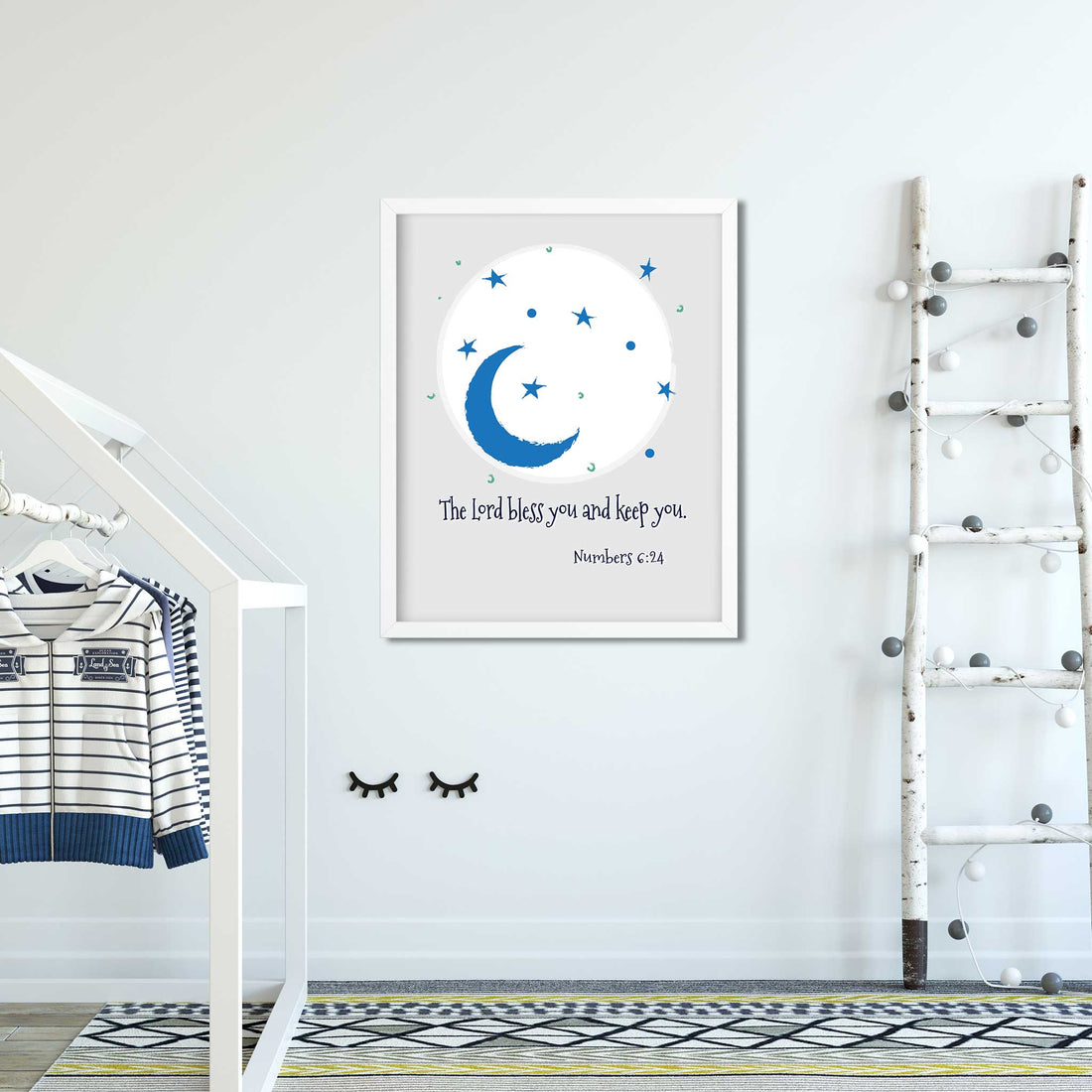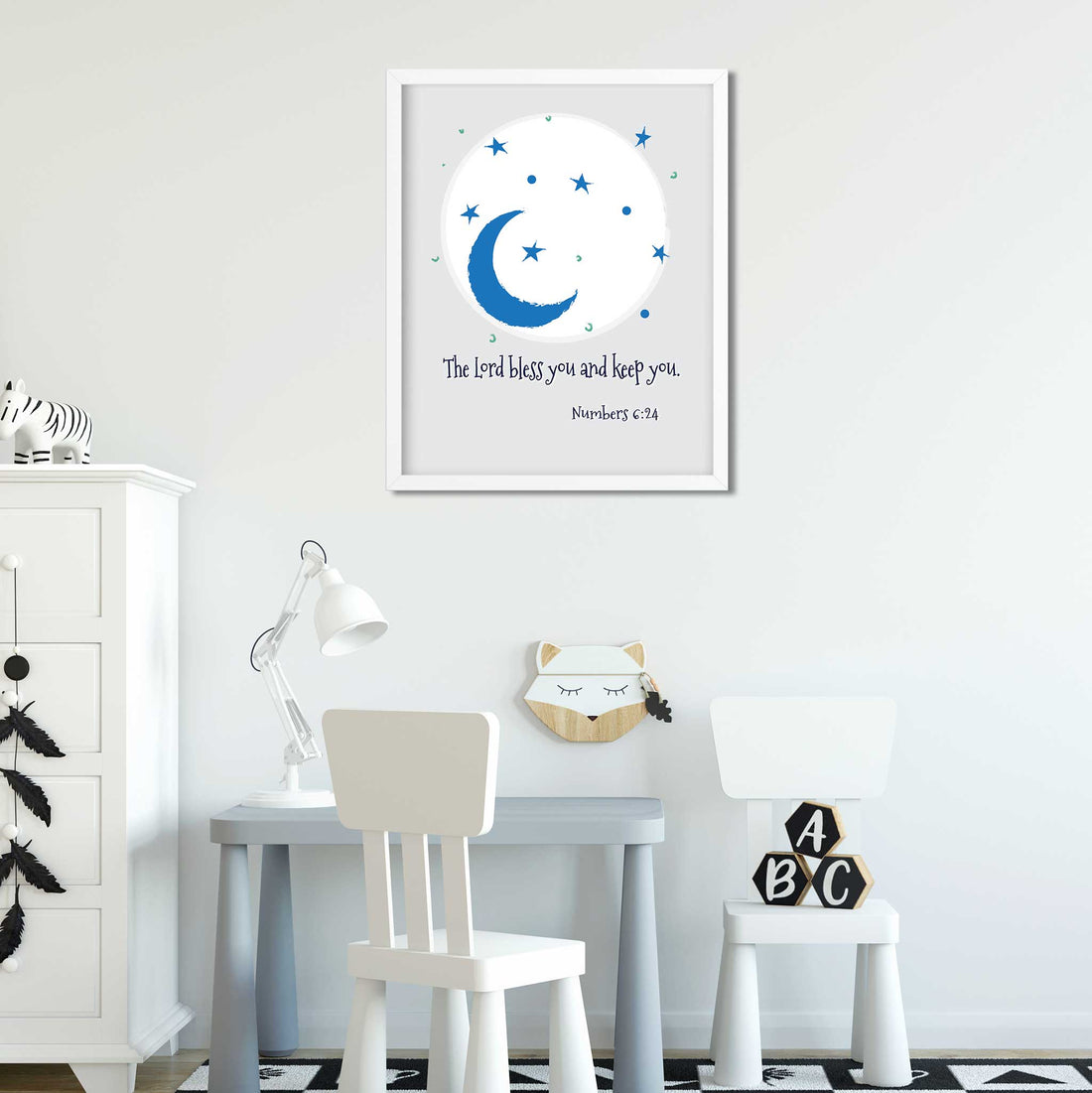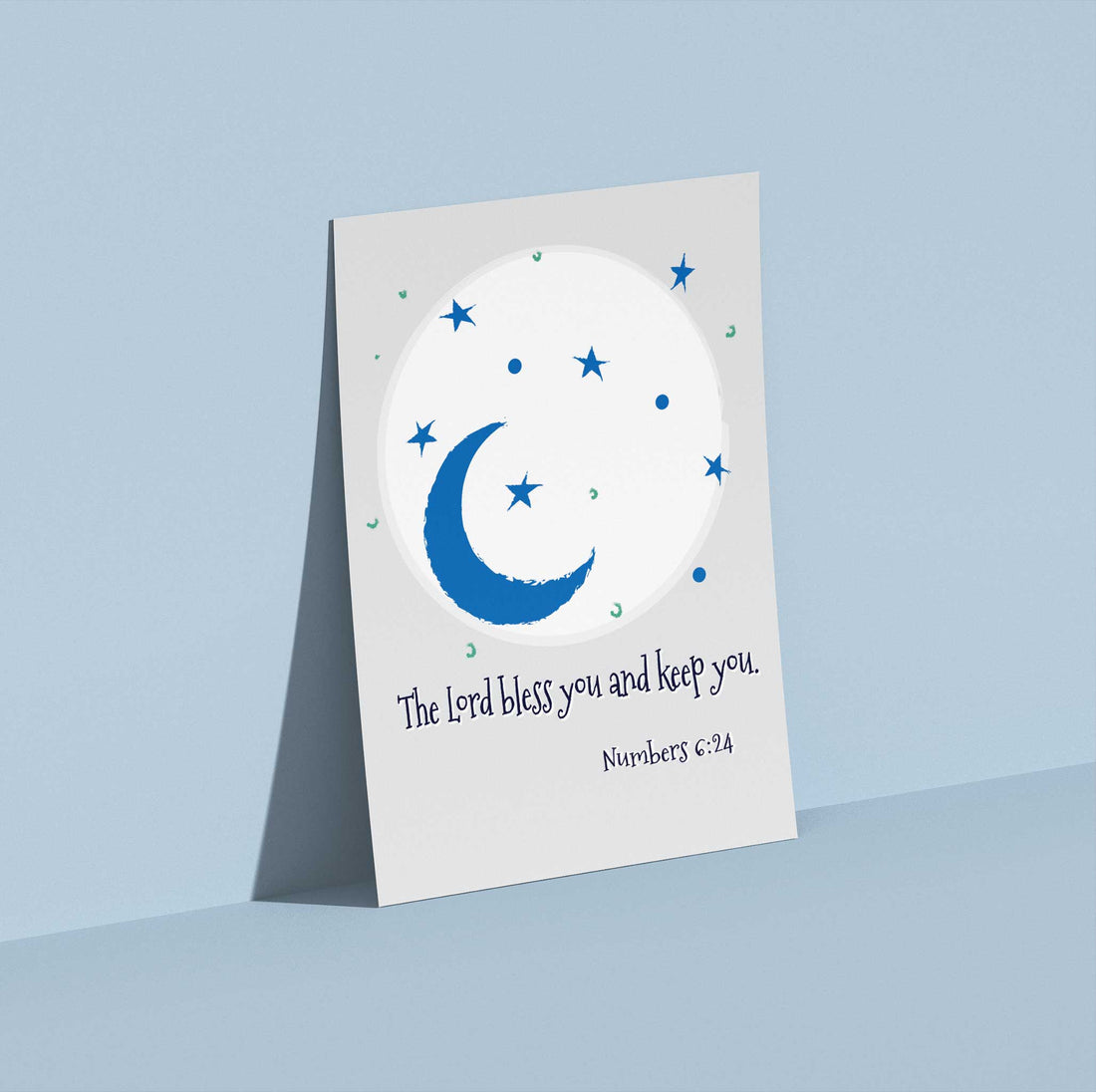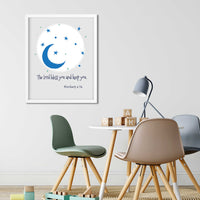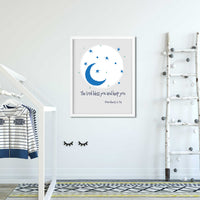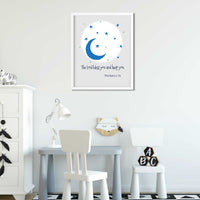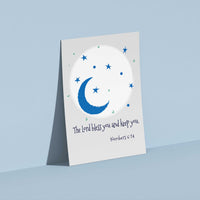 Moon and Stars- Numbers 6:24
The Lord bless you and keep you-Numbers 6:24
This Christian Nursery wall decor is a beautiful way to remind your little ones that God is always with them—featuring an adorable moon and the stars with Bible verse Numbers 6:24. It makes a great Christian baby shower gift or a perfect church nursery decor!

This delightful piece of wall art is perfect for any kid's bedroom and is sure to bring a smile to your little one's face each time they see it. The cute blue moon and stars are designed with the sweet bible verse from Numbers 6:24 – "The Lord bless you and keep you." What a beautiful art to bring peace of mind!

This art makes a wonderful addition to any Christian nursery and is sure to be loved by both parents and children. Give the gift of love.

-Gallery quality long-lasting print
-Size: 8x10 (inch) 
-Printed on thick fine art paper with a felt finish
-Made in the USA
We use high-quality art paper for all our prints - with a Felt finish that gives them a substantial texture in your hand.

We do not currently offer framing options for our prints, but we hope to provide them in the future.

Please note that colors may vary on each screen display and print.

Copyright © Bible Art For You 2022. All rights reserved.
Free returns within 30 days. We believe in our products, and we stand behind them. Therefore, we will return any of our items within 30 days. Please mail them back with your purchase receipt.
We accept all major credit cards. Payments can be handled through trusted third parties like Shopify Pay, Apple Pay, and PayPal.
Let us know what you think of your items.
Here at Bible Art For You, we sell cute kids' scripture art.

We believe God's word has the power to change lives.
That's why we're so passionate about creating art with scripture.

Not only do we want to fill your soul, but also you can help kids in other parts of the world.

We partner with the program called "Star Kids."
For each purchase, $1.00 goes to the Star Kids program to offer free education. 
Out of Christian love, people come together to serve immigrant ethnic communities, and their children range from 5 (Kinder) to 11 years old (6th grade) in the Bay Area and other countries.
Now, through online programs, Star Kids International serves kids in Lebanon, Mongolia, Myanmar, Nepal, Pakistan, and Korea.
Learn more about STAR KIDS program. 
visit the website 
God's word has power
As your little one grows up, they will come to know how much God cares.
Help your children be comfortable with God's words. Help yourself to feel loved and remembered.